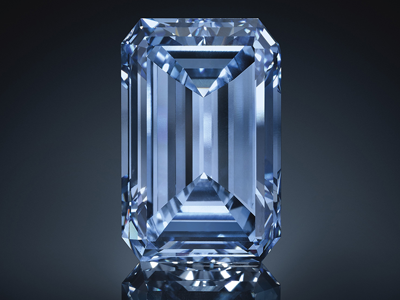 In May 2016 a new record was made when the Oppenheimer Blue diamond was sold by Christie's for $57.8 million, topping the previous year's sale of the Blue Moon of Josephine diamond, sold at Sotheby's for $48.4 million, making the Oppenheimer Blue become the most expensive jewel ever sold at auction.
Natural colored diamonds are rare and blue diamonds are the rarest of the rare. Their color is a result of boron traces in the gemstone and their principal source is the Cullinan Mine (now owned by Petra Diamonds), previously known as The Premier Mine, owned by DeBeers, in South Africa. Less than a tenth of a percent of mined diamonds reveal blue color and Fancy Vivid is the rarest designation of all. Approximately 90 percent of all blue diamonds found weigh less than a carat, which is another contributing factor to the prices obtained for blue diamonds at auction.
The Oppenheimer Blue, weighing 14.62 carats with an emerald cut in a setting by Verdura was owned by a member of diamond royalty, Philip Oppenheimer of DeBeers fame, and this was the first time it was offered at auction. The sale to a private collector topped its asking price of between $38 and $45 million. Its per-carat price came in at $3.9 million vying for the per-carat record with the 12.03-carat, cushion-cut Blue Moon of just over $4 million per carat. Purchased by Hong Kong real estate mogul Joseph Lau, the Blue Moon of Josephine was named for Lau's 7-year old daughter and was cut from a 19.6 stone diamond owned by Petra Diamonds. A 9.75-carat blue pear-shaped diamond belonging to Bunny Mellon's collection had also been purchased by Lau the previous year at Sotheby's for $33 million, (pre-auction estimate $10-15 million) and he then named it the Zoe Diamond, after his elder daughter. The Zoe diamond held the blue-diamond and diamond per-carat auction record until he purchased the Blue Moon.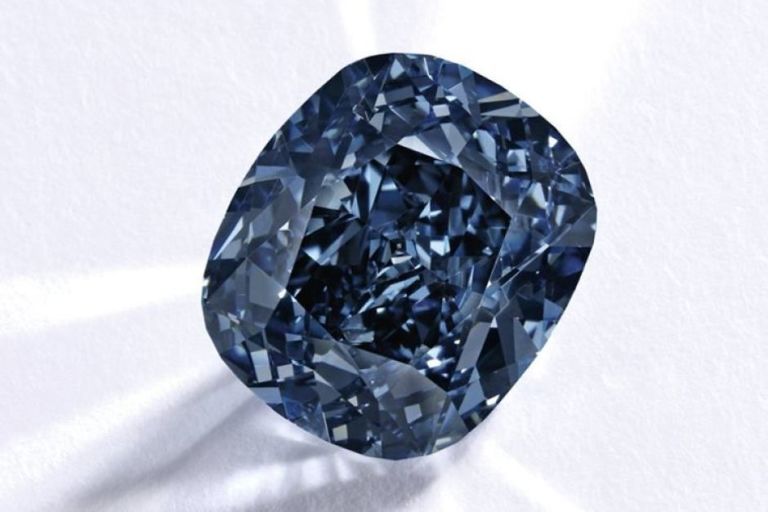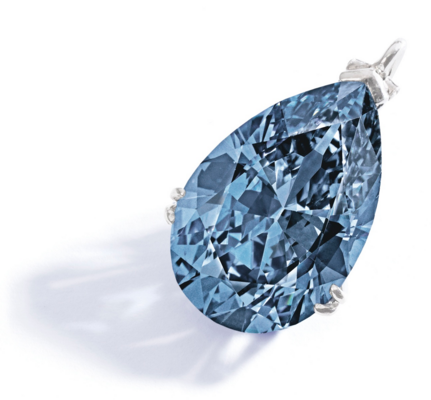 Two rare blue diamonds were brought to sale at auction in the last several years that did not attain their reserve prices. In 2013, the rare round-cut, 7.59 Premier Blue was offered by Sotheby's but did not reach its minimum asking price of $19 million. In April 2016, Sotheby's offered the Shirley Temple Blue Diamond, a 9.54 deep blue cushion cut diamond, in its original Art Deco setting, purchased for the child star by her father 1940 and worn by her until her death in 2014. Its asking price was $25-$35 million and despite its worthy provenance, it closed at $22 million and was not sold.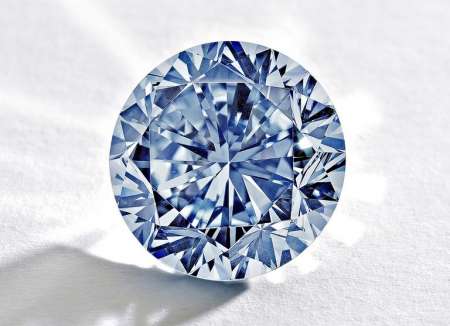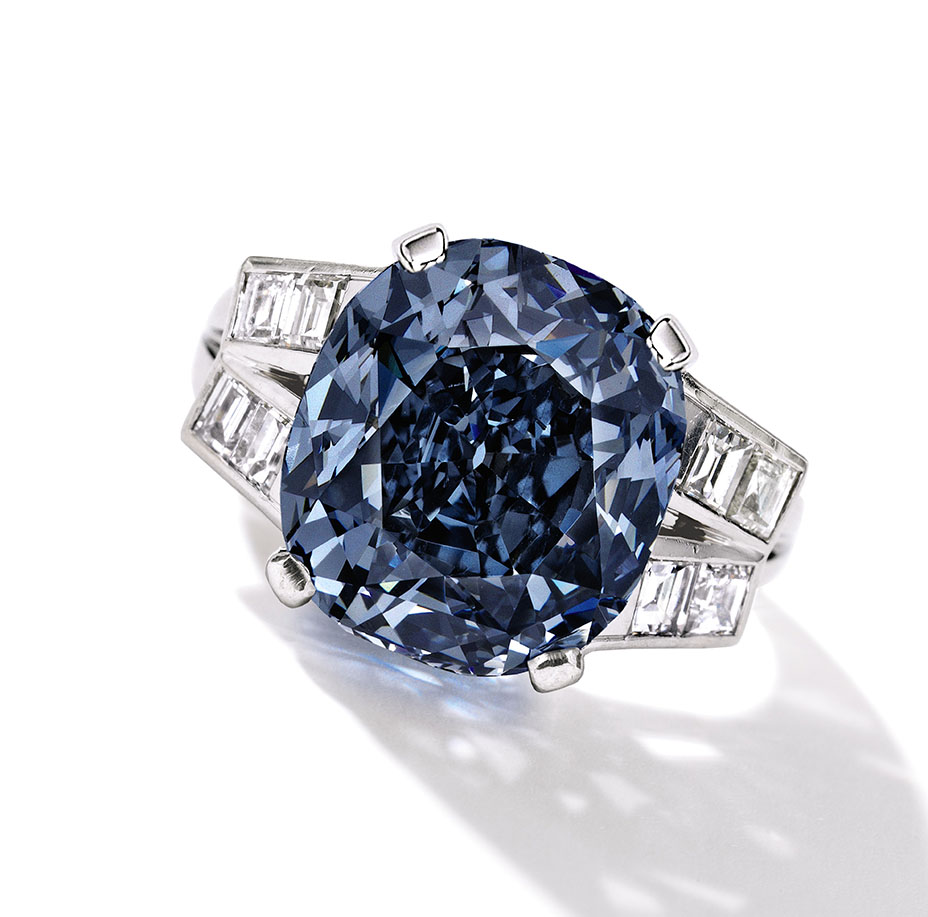 Just to give you an idea of the enormity of these record-breaking sales, here are a few sales of blue diamonds in the past ten years for comparison:
December 2008: Wittelsbach-Graff Fancy Deep Blue Diamond, 35.56 carats, $24.3 million total.
April 2010: Millenium Blue Diamond, Fancy Vivid, 5.15 carats, $1.24 million per carat.
May 2010: 7.64 Intense Blue, $8,034,503 total.
October 2010: Fancy Vivid Blue, 10.95 carats, triangular cut, $15.7 million total.
April 2011: Fancy Vivid Blue, 3.25 carats, emerald cut, $3.6 million total.
September 2011: "Bulgari Blue", Fancy Vivid, 3.78 carats, pear-shaped, $2.97 million total.
October 2011: Fancy Vivid blue flanked by pinks, 6.01 carat blue, 0.90 carat pinks, $10.1 million total.
November 2014: Bunny Mellon's Blue (Zoe diamond), Fancy Vivid, 9.75 carats, $32.6 million total ($3.3 million per carat).
November 2015: Blue Moon of Josephine, Fancy Vivid, 12.03 carats, $48.5 million total!
May 2016: Oppenheimer Blue diamond, Fancy Vivid, 14.62 carats, $57.5 million total!
And on September 20, 2016 Bonhams will offer an oval-cut, 3.81 Ct fancy intense blue, estimated between $1,700,000 - $2,300,000 – some will say it's a bargain, but please note it's a low I1 clarity grade diamond.
Reddiam Ltd is also a proud owner and producer of a few notable rare blue diamonds including the 3.22 Ct fancy intense blue radiant cut stone, the 2.65 Ct fancy deep blue internally flawless radiant diamond and the latest 1.50 Ct gorgeous square shaped fancy deep blue VS1 clarity diamond.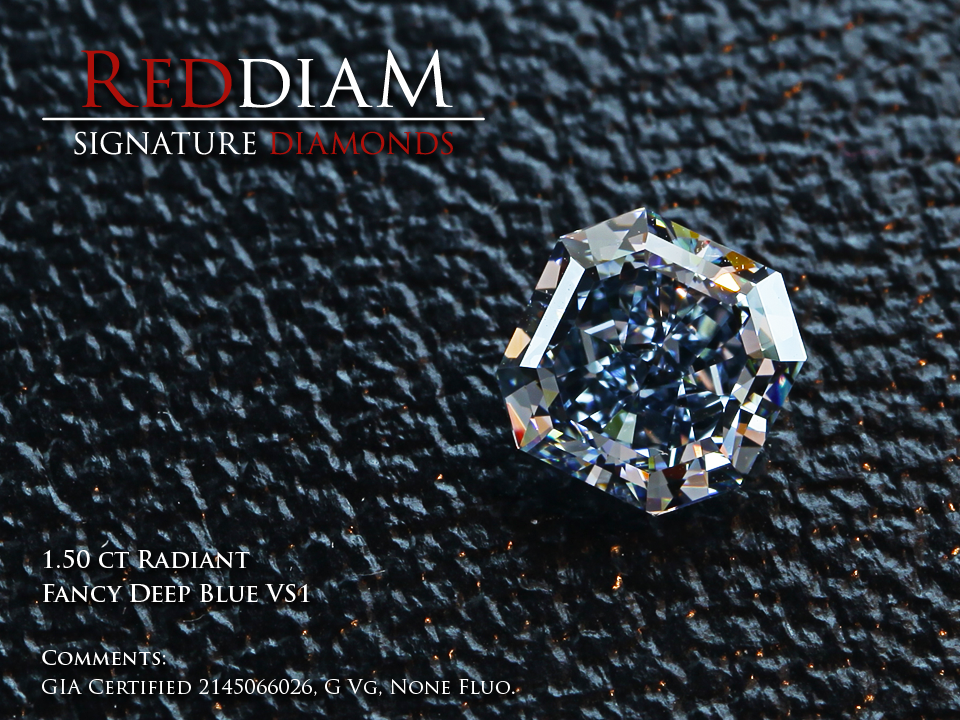 With some of the record-breaking prices received in the last two years, rare blue diamonds with similar carat weights and outstanding quality and color will most likely appear on auction blocks in the not-to-distant future, as investors and collectors seek the next big thing. Blue diamonds are creating wow-value at auction as are other fancy colored diamonds despite volatile financial markets and recently, gems have proved they can outrun the art market.